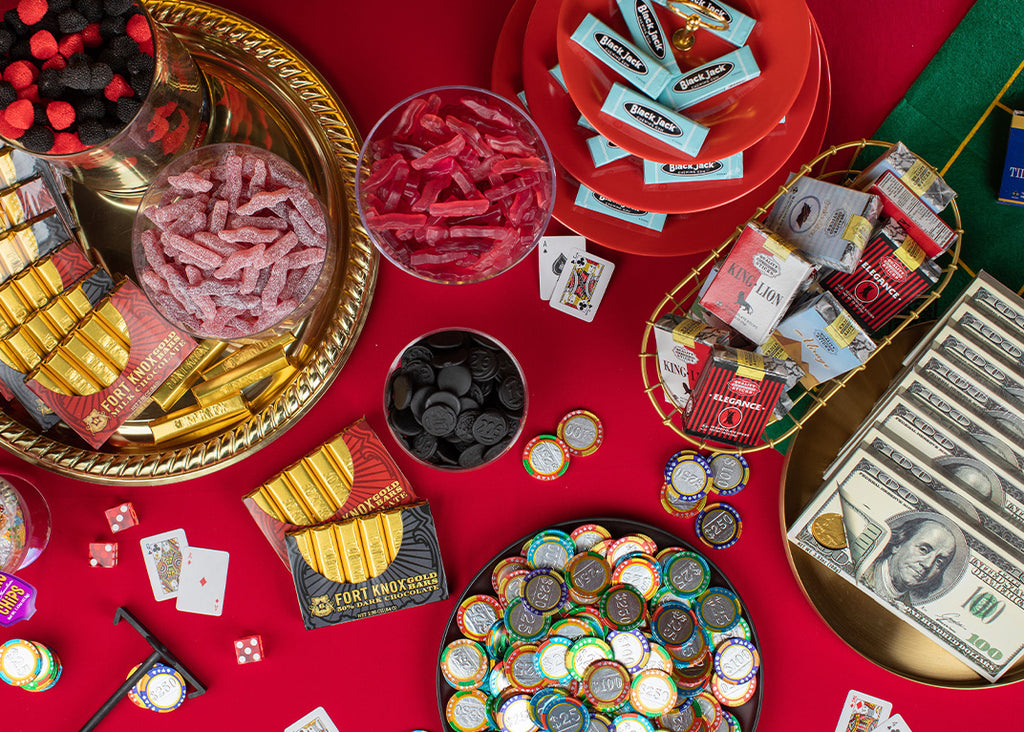 High Roller Themed Party Ideas
Posted on:
Flashy decor & glittery gold sparkles—we don't ever think it's 'too much' when it comes to going all-out for your next casino-themed party! You want to leave your guests raving and the best way to do that is always through food, especially dessert! Here are some fabulous casino-themed candies to incorporate into your next high roller party and the best part? It's fun for people of all ages—no ID required.
Money, Money, Money
It wouldn't be a casino-themed party without the money! There's value in quality chocolate that serves as money, too. You can bet and (metaphorically) roll in the dough with any of these sweet rewards:
The Mega Banknote is the ultimate win, or share in sweet memories and winnings with everyone with Mini Gold Bars!
Aesthetic is Everything
We don't encourage smoking, but we do encourage a sweet treat to nibble on to make the aesthetic of the party all the more real. Gerrit's Quality Sticks are chocolate cigarettes – truly a sign of the times given all of our retro candy. You also can't go wrong in adding to the red and black decor by incorporating Gustaf's Red & Black Berries into the mix. And of course, no casino party is complete without Black Jack Gum. Give 'em a lil idea to chew on, see?
Can't Forget the Cars
Last but not least, we can't forget about the cars! A casino party wouldn't be complete without our Pink Cadillacs or Gustaf's Sour Pink Cadillacs – the only sour thing about the night. Magnificently retro and tasty to boot, there's nothing hiding in the trunk of these cars except sweet, sweet flavors!
Get Ready for Your Casino-Themed Party!
There's no losing out with this fabulous variety of casino-themed candies. Add to the decor, make it interactive, and most of all: have fun! Planning a party is the best part if you ask us!